Caitlin Freeman, M.AmSAT.  Certified Alexander Technique Instructor.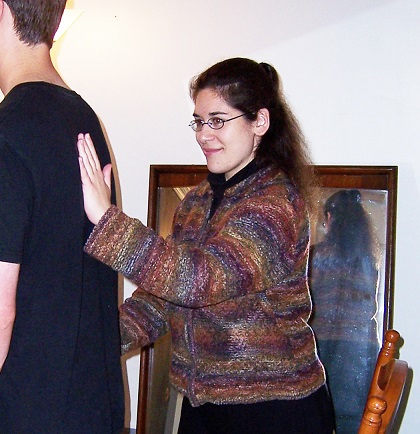 Caitlin Freeman is a certified Alexander Technique teacher and Mindful Movement specialist. She received her B.A. from Sarah Lawrence College in music and theatre arts, and graduated from the three-year Alexander Technique teacher training program at the Alexander Technique School of New England.
Caitlin practices the Alexander Technique at the Center for Integrative Medicine at the University of Pittsburgh Medical Center (UPMC) in Pittsburgh, PA.
Caitlin is nationally certified to teach the Alexander Technique by The American Society for the Alexander Technique (AmSAT), the largest professional association of certified Alexander Technique teachers in the United States.
Caitlin's specialty is using the Alexander Technique, voice teaching, and theatre coaching to work with individuals on the Autism Spectrum. She is skilled helping people on the Spectrum integrate their physical, mental, emotional, and social selves to manage their particular challenges. The children, teens, and adults she works with benefit from her form of gentle, non-invasive realignment, as well as her engaging style of music and drama therapy.
From 2010 to 2015, Caitlin taught the Alexander Technique in the Theatre Department at Point Park University's Conservatory of Performing Arts (COPA). Caitlin is recognized for her talent for working with artists who have special challenges, such as singers with TMJ, musicians and dancers with repetitive stress injuries, and performers with anxiety.
Caitlin has experience treating back pain, repetitive stress injuries, and sports injuries, among other conditions. She specializes in helping actors, dancers, and athletes overcome chronic pain. Her clients have included people recovering from disc herniations, knee injuries, tendinitis, and bursitis. She has worked in coordination with physical and occupational therapists to help clients recover more quickly from injury and surgery.
Caitlin's overall vision is to develop state-of-the-art ways to empower individuals using the innovative methods of the Alexander Technique; music, art, and drama therapy; and music education.
Please contact Caitlin to find out more about how you can benefit from the Alexander Technique.