The Alexander Technique was developed as a technique for improving breathing and physical coordination.
It was quickly adopted by actors, singers, musicians, and dancers as a way to improve their performance on stage.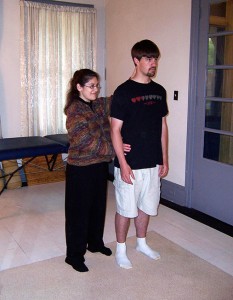 Since that time, it has become the standard technique for training performing artists in all disciplines.
The Alexander Technique is part of the core curriculum at major performing arts institutions like Juilliard, The New School for Drama, and NYU's Tisch School of the Arts.
By freeing muscle tension and calming stage fright, the Alexander Technique helps performers become more spontaneous, expressive, and genuinely emotive on stage.
Caitlin Freeman has more than ten years experience as a professional voice coach and drama teacher. Her specialties include Classical, Broadway, and Contemporary vocal techniques, and Method and Classical acting techniques. Caitlin helps students apply the Alexander Technique to the arts to create performances that are candid, engaging, and sustainable.
Please contact Caitlin Freeman to hear how the Alexander Technique can help you express yourself more fully.